As an architect, project manager or BIM manager, you may use Dropbox to store and share your files online. We will show you how the BIMData collaboration platform dedicated to the construction industry will simplify your daily work.
BIMData.io vs Dropbox
Dropbox, Box, Google Drive or Microsoft's OneDrive are online storage services. They are very easy to use and allow you to store, save and share all types of files. These online services allow users to manage large files (documents, photos, videos) and share them via their phone, tablet or computer using any web browser.
Our BIMdata.io platform is a project management tool. Its intuitive and ergonomic interface makes it as easy to use as Dropbox. It integrates an electronic document management that allows you to manage the filing, sharing and distribution of your models and other deliverables. It is possible to upload one or more documents in just one click.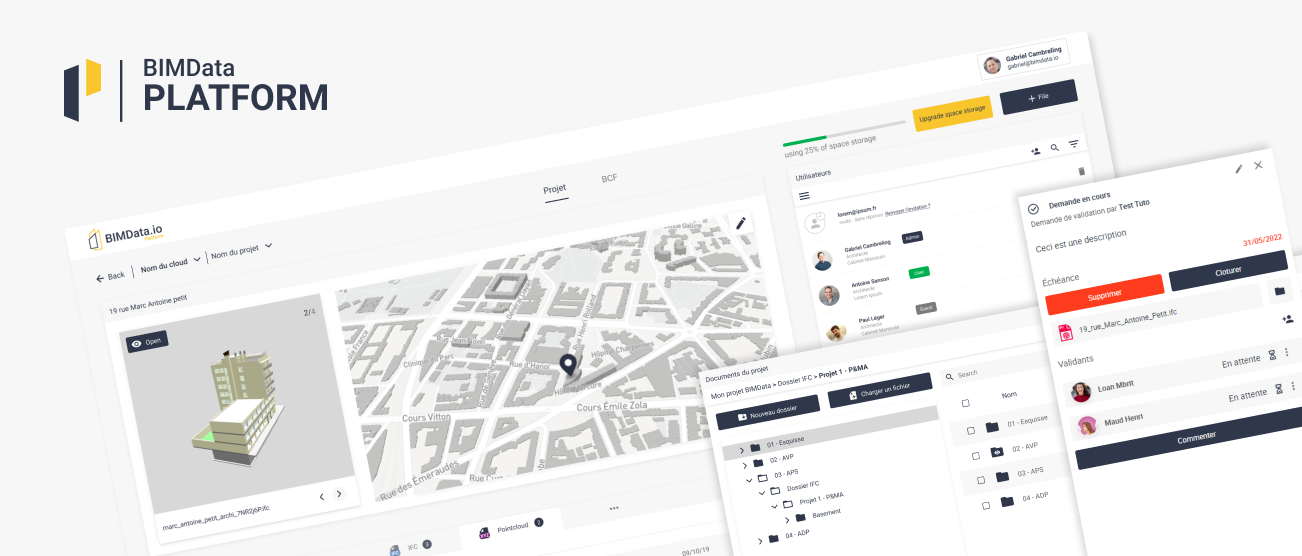 Additional features of the BIMData platform.
With so many industry-specific features, the BIMData platform will streamline your construction projects!
One-click access to the 2D/3D viewer
Thanks to the open BIM viewer, you can easily explore your digital models on any recent browser. Working in 3D allows you to better visualise and contextualise your projects while giving you easy access to all the necessary information. Our viewer is capable of displaying multiple models simultaneously on the same page. We work in total respect of the data and as closely as possible to 3D and 2D formats such as IFC, PDF, DWG and DXF in order to display all of the required elements.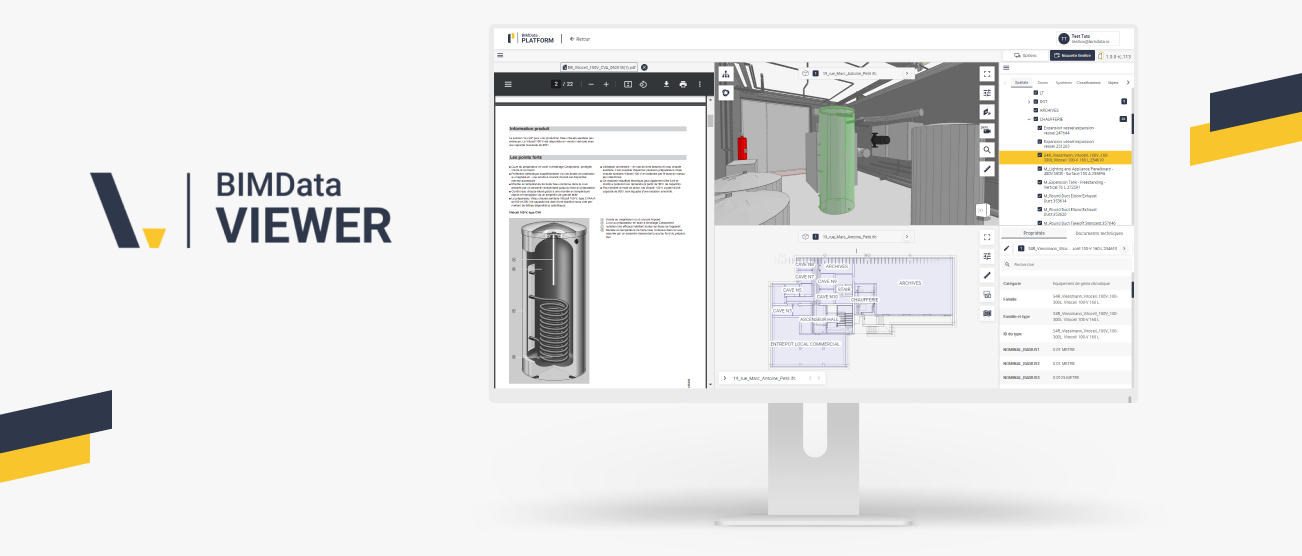 Validation request
The BIMData tool allows you to validate all types of documents (IFC, PDF, DWG, etc.). All you have to do is use the validation request service, which consists of checking the execution plans produced and ensuring their conformity with the design study. The purpose of examining the conformity of the execution studies with the project is to assure the project owner that the documents drawn up comply with the provisions of the project established by the project manager.
Managing reading/writing rights
You can manage the read and write rights of the various user groups directly from the EDM tab of our platform. This allows you to upload all sensitive documents in a single workspace, you just need to edit the rights according to the progress of the project.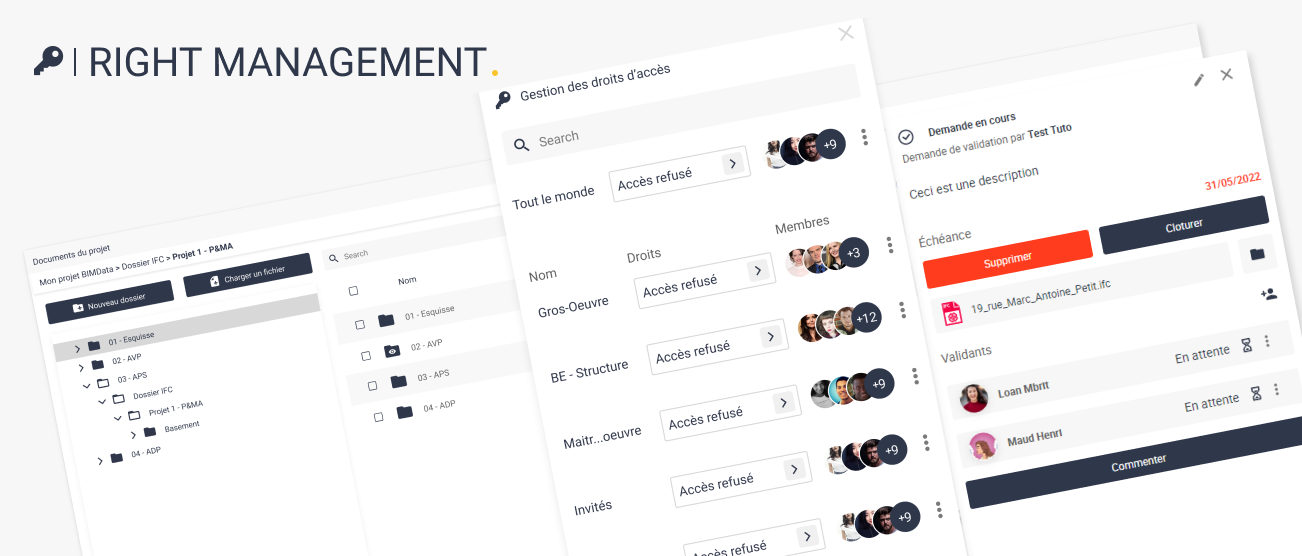 Share / upload documents securely
The platform is a place to deposit and share documents, it is possible to deposit all document formats and download them in one click. Moreover, our servers are located in France. You can therefore share and upload your confidential documents in complete security.
Unlimited invitations to collaborators on a project
As an additional support to develop your collaborative projects, our platform allows you to create different collaborative workspaces. Every collaborator can work on the same document(s) which effectively reduces error rates and increases productivity. There is no limit to the number of invitations you can send. You can collaborate with up to 100 people on our tool without any difficulty – many hands make light work!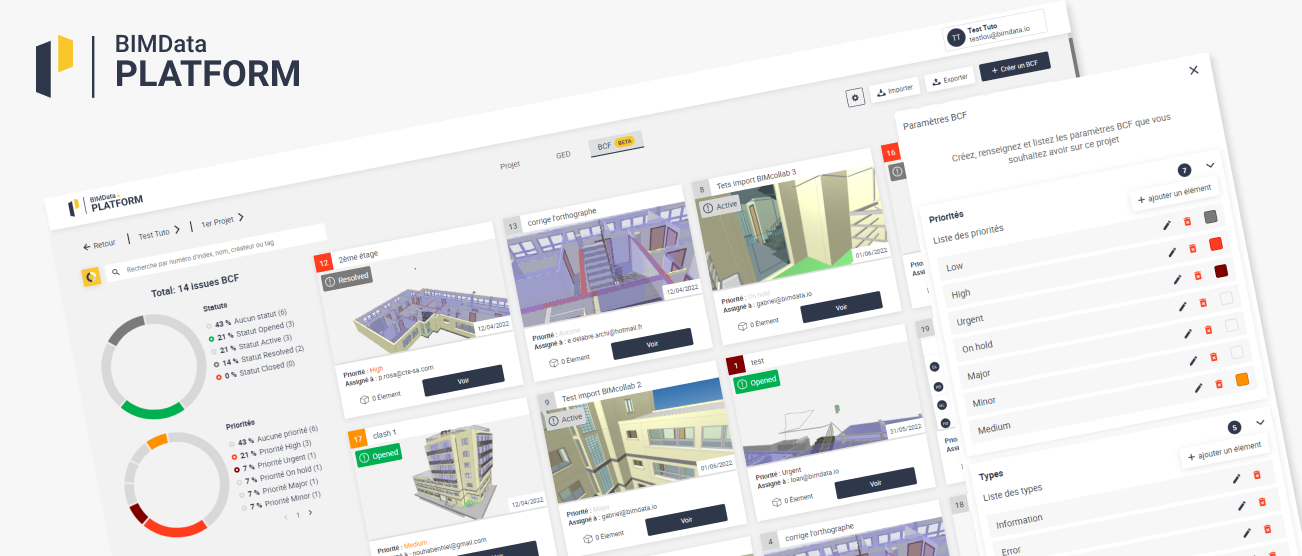 Annotation tracking dashboard (BCF)
Your designs can be enriched with annotations in BCF format (standard data exchange format). The comments you save in BCF format can be used separately from the IFC model and can be shared with other project stakeholders, regardless of the software used.
Do not hesitate to contact us for more information!
Contact us